Is your dog causing you stress? Is it barking, chasing, not listening, pulling the leash? We can help! 
Can't get it to work stock, or can't get it to stop working? Being too forceful, or not able to get it to move your flock? Or have you just bought a kelpie and have no idea how to handle it or where to start the training?
From beginners to experienced handlers, 14 wk old puppies to old dogs, farmers to city slickers, our Working Dog Training caters for all working dogs. We have over 30 years of experience with all sorts of working dogs including rescue dogs and 'problem dogs', no problem is too big for us!
You and your dog will be able to move with stock through paddocks and yards, while having control of your dog. It is a hands on weekend, with plenty of time to practise the things you have just learned.
We strongly recommend watching our 2MIN YouTube Training Videos before the training. Click here to watch the videos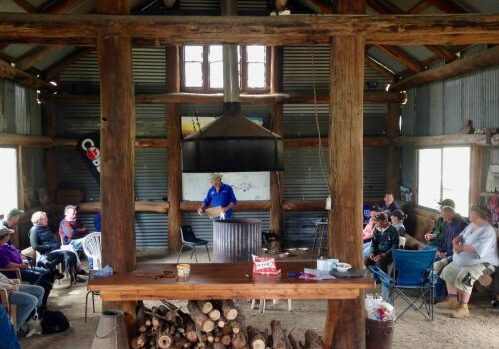 A two-day course from 9am until about 4-5pm on Saturday and Sunday.
For up coming dates please click on the "Enrol For Training" button.
Over a weekend you will learn a lot about your dog and its behaviour in general, how to communicate so your dog understands you, obedience, how to solve problems and of course everything there is to know about herding.
We use a 'hands on approach' starting with you and your dog on sheep, and back that up with white board instruction. We work in small groups and you learn understanding and developing the instincts of your dog and how to work with it, not against it. You learn communicating with your position and body movement: this foundation work will build strong working bonds with your dog and develop to a higher standard of ability. We will talk about and practice commands, obedience and stress free stock handling.
The course includes:
Instinct testing
Body language and position
Obedience on and off lead
Working in the paddock on a bigger flock of sheep
Commands, off balance
Backing and barking
Casting and driving
Stock Flow & Leaders
Getting rid of bad habits
Location is the Beloka Farm in Welshpool VIC
Camping is available from the Friday 3pm.
NB: ACD/Heeler owners: in order to participate in the herding exercises a muzzle is required. Please train your dog to wear a muzzle before your arrival. Contact us for more info.
A lesson in a small group, once a week. Starts 11am and go 'until finished'.
For dates and availability click on the "Enrol For Training" button. New dates will be added every month. 
We generally take 90 minutes for one booking, but with multiple bookings we extend that time with how much time is needed.
We start with manners and obedience, walking on loose leash and any issues you are having. Paul will not only train your dog, he will TEACH YOU how to train your dog.
In the afternoon we will do herding.
Lessons are conducted at Beloka Farm in Welshpool.
All you need is your dog on leash, 'farm appropriate footwear' and lunch.
NB: ACD/Heeler owners: if you want to participate in the herding, a muzzle is required. Please train your dog to wear a muzzle before your arrival. Contact us for more info.
Note to the City Slickers
We find that 95% of sheep dog breeds work instantly and are easily trained. This training on sheep has huge benefits in obedience off lead training, mental stimulation and socialisation. When a dog is in prey drive (working instinct) at the park or on a walk it is almost impossible to stop this behavior. But when working on sheep in a safe environment with experienced instructors, this instinct can be redirected into a positive activity that your dog will love and accept the obedience because it will be rewarded with more herding.
Rob
Dog School - June 2022
Hi Paul and Anneke,
Just like to thank you for another great weekend of working dog training. I have come a long way as a dog handler and always considered myself o.k with dogs, but have improved over the years. A lot of that is attributed to Paul who has inspired me to be better. I now get praise about how well behaved my dog is, which is nice, but to get to that point it's countless hours and discipline over time. Be consistent, be fair and above all: be the BOSS. This the message Paul gets across and I can assure you Paul, you have been a great mentor. 
Best Regards Rob, Sue and Ruby the Red dog.
Matt
Dog School - March 2021
Just wanted to drop a quick note to thank you both for the weekend.
We had a great time, as did Scout. We can't believe how much of a difference our, now much clearer and consistent, communication to her has made.
As Paul likes to say, it is very simple, but not easy. But having such a clear demonstration (over and over and over) certainly made it easier too.
Thanks again,
Matt and Rosalie
Howard
Dog School - June 2020
Just wanted to say thank you once more for your hospitality, insight and guidance during last weekend's training. I cannot thank you enough.
We were at a point where I did not really know how to progress our training, but now with your help, I have a clearer understanding of where we are at, and where and how to progress down the path I wish to go with Nessy.
Lisa
Dog School - June 2020
What an amazing weekend! If youve just added a kelpie/border collie to your family and need help with training/obedience then this is your place. What you will learn is phenomenal. Paul is worth his weight in Gold. We took our 7 year old "labby cross" for the weekend where paul helped us teach the old boy new tricks. Paul and Anneke were fantastic hosts and very accommodating to all dogs and owners helping with their needs respectively. We cannot wait to come back!
Thanks to you both for what was a truly fantastic, informative and brilliantly run weekend.  There is something uniquely satisfying watching Kelpies working sheep well.  We came away having learnt a massive amount from our individual sessions and observing those of others attending.  I was amazed to see how quickly our little dog Whiskey started to also gain in confidence from the experience and surprised  how smoothly she worked through her first ever trial. Looking forward to a future session again and getting to the point where we can give trial a go.
Cathrine
Dog School - Sept 2019
I just wanted to thank you so so much for last weekend. It was so much fun. Your knowledge is great, you make time for everyone and take time to discuss things and your hospitality is second to none. We will most certainly be back. 
Carolyn
Dog School - May 2018
Thank you for the BEST weekend I've had for a long time. Everything was more than I had expected. Paul your teachings made me both laugh and cry and the end results were obvious. I came away so inspired to work hard with my Bella who astounded me with what she could do. 
Robert
Dog School - Dec 2017
My wife couldn't believe the huge change in Tobi! He's much more settled and doesn't pull at all on walks. He's like a different dog. It's interesting as loud noises don't scare him so much now whereas before he'd jump at the slightest sound. And he's much less demanding but no less affectionate.
Thanks for an amazing experience and it was really great meeting you both.
Jo
Dog School - June 2017
Just wanted to say what a great day I had when I took Bella. Learnt soo much and felt well supported. Was initially thinking, as I was not a country person, I would not fit in, but Paul is soo professional and shows a real understanding of people. Oh of course and Kelpies. Thanks so much and I will return.
Greg
Dog School - March 2017
Just finished a weekend training at Beloka with our kelpie pup Blossom. This was a great weekend which taught me as much about myself as it did about Blossom. To Paul and Anneke thank you so much for a great weekend, you generosity and hospitality and just being amazing people. We'll see you again soon 🙂
Heather
Has attended multiple Dog Schools
Paul is a great teacher of people & dogs. I was amazed how much I achieved in just two days and how much fun we had doing it. Added an unexpected bonus is that implementing Paul's techniques has strengthened the bond between me & dog - she really does enjoy me taking control and giving her clear direction.
Emily
Dog School - Sept 2017
Will is going fantastic, he gained so much confidence after our first school and so did I. Before coming down to you guys, I couldn't get him to work consistently. Now he is casting and backing like a pro with so much confidence with or without other dogs, he's so much more responsive and obedient. I thought it would be a good idea to come back and keep the training going, I had a really great time last time.
Thanks, Emily.
Daryl and Michelle
Have attended multiple Dog Schools
Sunny has been really good. The training weekend has done him the world of good. He's been stopping, staying & waiting with great results. He's walking so much better on loose lead too. We see a huge change in him and believe it's all to do with what you guys have helped us teach him and him wanting to learn. I've highly recommended you to a couple of friends of ours. Looking forward to coming down again soon.
Debra
Has attended multiple Dog Schools
Took my city slicker kelpie Zoey to the last working dog weekend at Welshpool. As she is a rescue I wanted to give her a chance to try what she was bred to do, but more importantly, I was having some behaviour and fear aggression issues with her that I had not been able to address successfully.  It has now been one week since I did the course and I have a different dog. She is calmer, has shown no fear aggression, even to her worst triggers, listens carefully to instructions and is dedicated to pleasing me - probably so she can go again!
I cannot thank Paul enough for my new "Queen Zoey". Will repeat the weekend as soon as I can.